Make a container pond
Extract from the RHS
Wildlife container pond step-by-step
Think you don't have space for a pond? We have the perfect solution – a pond in a pot. Repurpose an old Belfast sink, plastic sand pit or recycling box. Making your very own wildlife-friendly container pond is a perfect weekend project.
Quick facts
Pond-skaters will quickly find your mini-pond
Container ponds are great for everyone, even if you only have a balcony or roof terrace
Smelly, stagnant water is rarely a problem if you use rainwater and a few plants
What you'll need to make your container pond;
A container such as a half barrel, plastic trug, child's old sand pit, a recycling box, or Belfast sink
A sheet of pond liner to line your container if it isn't watertight
Some bricks, stones or several logs OR A plank of untreated timber and square of chickenwire
3-5 pond plants suitable for small ponds
Rainwater
Top Tip
Worried about small children around water? Make a bee drinker instead using a large plant saucer filled with pebbles and water.
A pond in a pot in six steps
Pick your position – Position your container somewhere you can enjoy, ideally with a little sun but not for the whole of the day otherwise the water can warm up too much or evaporate too quickly.
Make it watertight – Test it with some water to see it it leaks. If so, make it watertight by fitting with a flexible pond liner, securing it in place with a silicone-based sealer. Here we just needed to put in a plug.
Make it wildlife friendly – Create a ramp so that frogs and other wildlife can get both in and out of your container pond. We used a stack of stones but bricks, logs or a plank of untreated wood covered in chickenwire for little legs to grip onto works well too.
Fill it with rainwater.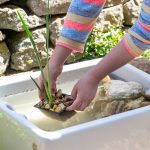 Begin planting – Gently lower in a mix of floating and upright pond plants. Three to five plants is usually enough for a mini-pond – they may look small to start but pond plants can grow very quickly.
Sit back and let nature do the rest!