Diarmuid Gavin's personal garden journey
We made the big move from London to Wicklow 13 years ago. Eppie was two and we reckoned an Irish upbringing had much to offer in a complex world. The house we chose was a new-build nestled in an idyllic location at the foot of the Sugarloaf while still just 35 minutes to the airport.
Our garden consisted of a third of an acre of builder-laid sloped lawn looking to a field beyond. I'd find out soon enough that the ground was a challenge to dig but for the first few years I did very little, designing my own garden proved to be an unexpected challenge. I knew what I wanted, to tame the slope by the introduction of terraces, grow lush green architectural plants especially the ancient Dicksonia antarctica. I wanted some fruit trees, an area for vegetables and a couple of terraces.
The house was a big bland box with small windows to the rear where there was a great view of trees, fields and the mountains. I needed to find a way of bursting through the pebbledash and opening it to the garden. I wanted to wander from each room upstairs onto a wide balcony or veranda under the cover of an overhanging roof and use the upstairs space as an outdoor room.
However, for a few years I had to be practical and realise that there were other priorities. We needed swings and a trampoline and an open space for exuberant puppies! The realities of the plot were also sinking in. The building of the house had led to severe compaction of the soil, a meagre amount of topsoil had been spread and when I did begin to dig, I unearthed a small quarry load of shale and boulders. The idea of creating my dream garden was fading.
Spurred on by the discovery of 9 two hundred year old cast iron columns in a city architectural salvage yard I began to dream again. Made in Bristol in 1895 and used to support part of Dublin's Jervis Street Hospital they could now support the framework for a second level terrace and roof meaning I could have a wide second level veranda.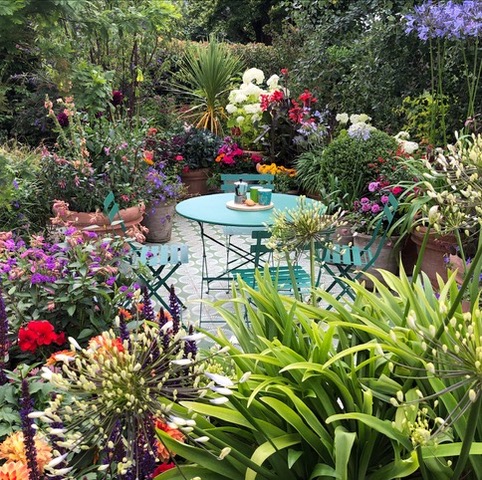 This notion had been inspired by travel especially trips to New Zealand, South Africa, Florida's Key West and Venice Beach in California. Outdoor living has been key to architectural development in these countries and I believe it should also be in ours.
My breakthrough moment came in Charleston, South Carolina. I was filming at a colonial ranch where the movie 'The Notebook' had been made. While in the city, I hired a bicycle and came across the areas iconic "single" houses — long, narrow homes with piazzas that stretch down the entire side.
This distinctive house style was shaped by the city's hot and humid summers and the homes are oriented specifically to take advantage of local cooling breezes. Wicklow offered a more pleasant climate with less requirements for cooling air but the protection of a protruding roof would make a useful umbrella from our regular rain which arrives as gentle droplets or torrential downpours! A covered veranda would also allow an unusual view over the garden…and would let me indulge in my love for tree ferns as viewed from above!
There were missteps, my first deadline was to have the veranda up and the garden tamed in time for Eppie's Holy Communion party. I was garden gallivanting abroad and the contractor chosen to install lawns, terraces and ponds proved to be a disaster. While the garden looked good, underneath the newly laid turf, the soil had been once again heavily compacted with machinery, sand rather than topsoil had been used as a bed for the lawns and the ponds leaked! I would spend years undoing the damage!
Just 5 years ago I began to get serious about the plot and started planting in earnest. Saturdays were spent with Finlay at Rare Plants Ireland and on the odd Sunday morning the car was packed at Mt Venus Nurseries. My penchant was always for trees first – we've squeezed in about 60 and then broad leaved architectural species – Cannas, Musa, Cordaline and ornamental Gingers.
Suddenly it seemed we had the beginnings of a jungle! Helen Dillon came for Sunday lunch and brought a beautiful Magnolia 'Leonard Messel' which has pride of place in the collection and I found a gorgeous Tetrapanax in Derry Watkins nursery. Other leftover plants from projects were fitted in like the conical Bay trees that had once revolved at the Chelsea Flower Show. They now form evergreen pillars in this Wicklow plot. That's the fun of planting a garden.
I began to watch the light at different times of the day, to appreciate back lit foliage. The real revelation was Geranium palmatum, happily self-seeding under the tree ferns and producing a haze of pink froth from late April through to mid July. We pinched ourselves when we were at last developing the garden we loved.
There were arguments, I wanted less lawn and more plants so the grass was gradually consumed. I'd no sooner start on a project when I'd dream up another.
These projects were becoming like painting the Forth Bridge, it was such an involved or time-consuming improvement process that it never truly ends! This was at odds with my lifestyle. I worked abroad, I'd arrive home at 11:30ish on a Friday night and wander bleary eyed first thing Saturday in bare feet, dogs yapping by my ankles. I'd look for what happened while I was away, what was growing, budding, flowering, what wasn't and what needed to be done.
My plot eyed me back suspiciously, it was fine thank you, no need of my help, we're all doing ok without you. Then after a mug of strong coffee armed with spade, secateurs or shears, I'd fight my way in! At 11pm I'd emerge, exhausted and delighted, with even more ideas and I'd do it all over again on Sunday.
My Ear Pods were in, I'd listen to Desert Island Discs, The Daily, Graham Norton or 100% Invisible as I hacked, dug, mulched, weeded and watered. In January this year, I resolved to take things further. Paul Smyth came round and built some compost heaps, I hired a digger, the last of the lawns went and half the garden was once again a mess waiting for another year of weekends.
Then Covid.
On March 18th, I met Paul and James Kinsella, our garden builder at a motorway service station. We were planning to do a garden at the 2021 Chelsea show but things were different. There was no shaking of hands with no seats or tables in use, so we chatted over the bonnet of my car.
A few hours later at home I called Paul, the weather was great and there was something we could do during this lockdown period. Over the past few years the picture sharing app Instagram had become an inspiration. Gardeners from everywhere shared photos, videos and information about plants and their plots and chat to each other.
Paul had begun to work with me a few years ago after 4 years at Crûg Farm nursery in North Wales, he has great plant knowledge and excellent communication skills.
And so Garden Conversations started that evening. A daily and weekend broadcast from my home design studio and Paul's Carlow potting shed. We'd play records on vinyl, drink coffee or something stronger and have the craic! – pirate radio for green fingered geeks. Each evening I popped an iPad on the desk and called in Paul or other gardening friends, Rory in Galway, Darragh in Rathfarnham, Mark in London. Their smiling faces would pop up on the screen and an audience began to build. In the 10s at first, then 100s and then by the 1,000s.
We undertook Masterclasses on design, planting and the crafts of gardening. Paul has a Harry Potteresque ability with basic gardening skills, a sleight of hand, that magic touch of propagation made easy. Our audience became a tribe, gathering each evening, chatting, laughing, joking, learning and slagging.
We answered 1000s of questions, played our music, called up gardeners from around the globe, we hung out together. We had competitions…the best floral hat judged by Paul Costelloe with tons of entries. Dermot Bannon became a regular, Munster and Ireland rugby ace Peter O'Mahony talked us through his lawn maintenance programme and soon chocolates, cakes and even record collections started arriving at my house – gifts from viewers. You don't get that from a tv show!
Paul and I hotfooted it to Belfast with the ideas for what would become Gardening Together printed on a couple of sheets of A4. We were keen to keep the spirit of our Instagram antics and use them to develop a show which was informative, relaxed, sunny and to keep the coffee and music vibe. The catch was the programme needed to broadcast within a month and that it would be based at home.
Gardening was doing well during lockdown and soon television production companies started to call. They asked me to film a pilot on an iPhone. They then arranged a slightly more accomplished taster tape and all of a sudden we had a commission for a new gardening series, a 6 part joint production between RTE and BBC NI.
We had a break-down of each episode including episodic projects which would take place in my garden, the idea of developing designs for other gardens and presenting them over Zoom and a list of practical gardening tips which we felt would be useful for gardeners during lockdown. Paul also wished to bring the gardening experts who'd been helping us answer questions over Instagram on board.
The meeting in the North was swift, those few pages became the basis of the show and just 10 days later it was happening. The base for the programme and also the production team was our house. Paul moved in and the kitchen was commandeered! It was the strangest and swiftest TV environment I've been involved with.
Lee the producer/director held court at the top of the dining table, Paul, who took on his first role as a television researcher sat beside him and John the cameraman was inevitably to be found across the table downloading footage he'd just filmed which was immediately sent to an edit suite in Donegal.
This is where scenes were stitched together and Gardening Together took shape. That was our little team, isolating together, filming in the garden and crafting each episode as we went along.
We were scheduled to go to air in just a month and Lee fretted that we wouldn't make it, but necessity is the mother of invention and everyone played their part. James joined as project manager and took to the road. When I sent a design to a contributor in Wicklow or Belfast he knocked on the doors of the garden makers around the country to ensure they'd deliver a completed garden on time.
Lee felt that to keep things fresh and immediate, he'd try to get a performance in a single take. It was very different to his usual gig of directing actors on Coronation Street, Eastenders and Emmerdale. Lockdown had paused those productions and we had the great fortune of grabbing him. There was no time for messing around and because of the minimal fuss and my familiarity with my own garden it was easy.
The weather was wonderful, the gardening industry came on board with plants, equipment, enriched soil and compost, plants, wood cladding and tiles and lots of goodwill.
A rough cut of Episode 1 arrived. It featured an alleyway in Belfast which had been turned into a garden by local residents over lockdown, a magical story. Within weeks, that had racked up over 3 million views on social media and Helen Dillon in her new Monkstown garden was a pure delight.
Gardening Together was more that we could have hoped for. It's become the lockdown gift that just keeps giving. Last week a call came through, the BBC had decided to clear the schedule from the week of August 24th for 6 consecutive evenings, a UK audience will be invited to come Gardening Together in Ireland!
If you have not already seen this series, this is another opportunity to view it.
ooOOoo